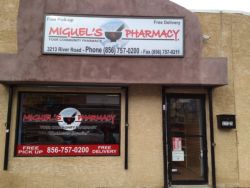 Welcome to Miguel's Pharmacy
When it comes safeguarding your health, you need the partnership of a reliable and trusted source of medication. Miguel's Pharmacy aims to be all that you need in a health ally.
Miguel's Pharmacy is a full service pharmacy that offers a variety of medication, supplies and over-the-counter items. When you go in our store, you will be greeted with a reception of courtesy and warmth. Our team of professionals will be able to offer you with medically sound advice for all your health concerns and needs.
About Us
Miguel's Pharmacy is a locally owned and operated pharmacy that offers a wide variety of goods ranging from prescription medication, medical supplies, vitamins and Spanish products. We aim to be you and your family's partner in health.
Our team of pharmacists and technicians have all gone through an extensive pre-employment process to ensure that they are qualified to handle this type of work. The procedure includes but is not limited to: background/personal/criminal checks, reference checks, license/certification validation, drug testing and many more.
We are an equal opportunity provider and employer. Miguel's Pharmacy does not discriminate anyone on the basis of gender, color, race, ethnicity, origin, sexual orientation or creed. Our doors are always open to anyone who are in need of our services and employment opportunities.
This website was born out of our desire to further extend the reach of our service to our clients. We encourage you to check out what more we can offer by exploring this website thoroughly. We hope you can swing by soon.
Should you have questions or inquiries, please give us a call at 856-757-0200.
Insurance Accepted
Miguel's Pharmacy accepts:
Medicare
Medicaid
Senior Gold
Workers Compensation
Medicare Part D Plans
Amerigroup
Blue Cross Blue Shield
All Major Private Insurance Plans
Most Coupons
Auto Accidents
If you want to check if your insurance is accepted, please give us a call at 856-757-0200 to inquire.